As a social media manager, you should have a carefully organized social media morning checklist referenced at the start of every day.
A social media morning checklist is crucial to getting a jump on the day ahead. While your day in the office might have ended as far as your co-workers are concerned, the socialsphere is still very much abuzz after the lights go out. When you arrive in the morning, pour yourself a cup of coffee and start going down this checklist in order to ensure that your day won't be filled with a game of catch-up.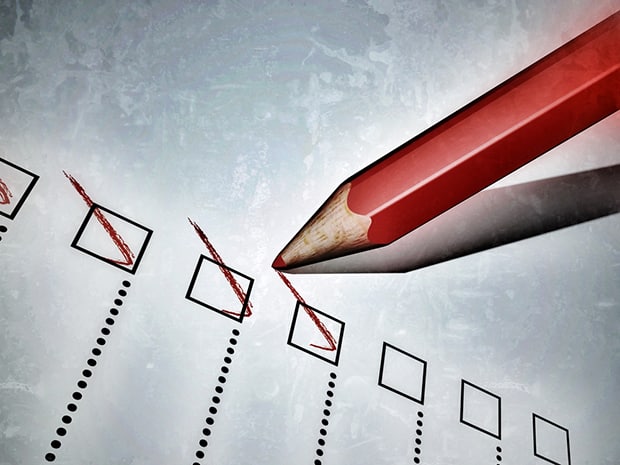 Review Mentions
While you were out, there is a good chance that somewhere in the socialsphere, someone has reached out. Whether that is simply a message about your brand, a complaint or a customer service ticket filed, you'll want to have a system in place that gathers all recent mentions into one place.
There are plenty of tools that offer something like this; from low-end management dashboards like Hootsuite to high-end listening systems like Radian6, a technology that organizes mentions (and, if possible, prioritizes them based on the language used) is a must. When you sit down in the morning, review those mentions and determine which ones require a response or attention from your (or another) department.
Prepare Daily Content
For a lot of managers, content is prepped and scheduled for the week or in some cases the entire month long before the day has begun. That said, it is always necessary to review the content that will be going out that day, make modifications where necessary and add in other, more topical content when it is appropriate.
When a crisis strikes, for example, the general rule of thumb is that your editorial calendar is paused and your crisis protocol moves in. This is not to say that you should approach every day as if a crisis has hit, but you should always review what is scheduled to go out in case something is no longer appropriate or other content might make more sense. Remember, your social channels operate in a live environment and what was scheduled at the beginning of the week or month might not make sense by the end.
Analyze Your Ad Campaigns
At the start of every day, one of the most crucial tasks a social media manager will have will be the analysis of current and ongoing ad campaigns. There are a few things you will want to examine every morning:
Has your cost-per-click/conversion increased or surpassed your ceiling? Why? What is different?
Have new opportunities presented themselves based on a high response rate from a particular subset within your target audience?
Are you approaching the end of your budget? Is the campaign performing well enough to extend that budget?
Is it time to start raising you maximum cost-per-click?
The last question listed here has a lot to do with whether or not you've properly implemented t2's proprietary incremental bidding system. You can learn more about that by downloading this eBook.
Read Industry News and Updates
While a lot of what is on this checklist has to do with your brand and owned media, you'll want to take some time at the beginning of the day when things are generally a little bit quieter and review some of the industry updates.
It is not secret that things change at a dramatically rapid pace in the world of social media, and it is a manager's duty to be on top of those changes. Why? As best practices and standards change, so does your approach to daily management. Being in the know makes it a lot easier to adapt and stay ahead of the curve while others play catch-up.
If you're looking for a few great resources to check out at the start of your day, take a look at this list.
https://t2marketinginternational.com/wp-content/uploads/2014/07/Content-Strategy-Audit-Checklist.jpg
465
620
Corey Padveen
http://t2marketinginternational.com/wp-content/uploads/2017/06/T2-logo_june17-6.jpg
Corey Padveen
2015-11-24 06:15:37
2017-05-15 21:16:59
The Social Media Manager's Morning Checklist