Instagram ads have arrived for all to enjoy, and there are a few helpful tips and best practices to keep in mind for when you decide to delve into the realm of Instagram ads.
By now you've no doubt heard about the wide launch of Instagram ads, and you might have even created a campaign or two to test them out. It's an exciting time to be a new media advertiser!
While Instagram does use the now-familiar Facebook advertising interface, there are a few key setup points and differences to keep in mind when creating and launching a campaign. Follow these useful tips and you'll be well on your way to generating new business from the popular photo-sharing app!
Connect Your Instagram Account
It is a trivial step, but one that is somehow overlooked regardless. In order to run Instagram ads, you'll need to ensure that your Instagram account (either your personal or business account, depending on where you want your ads to run) needs to be connected to your business page.
In the image below, you'll see the new screen in the backend of your page settings that allows you to connect either a new or existing Instagram account to the business.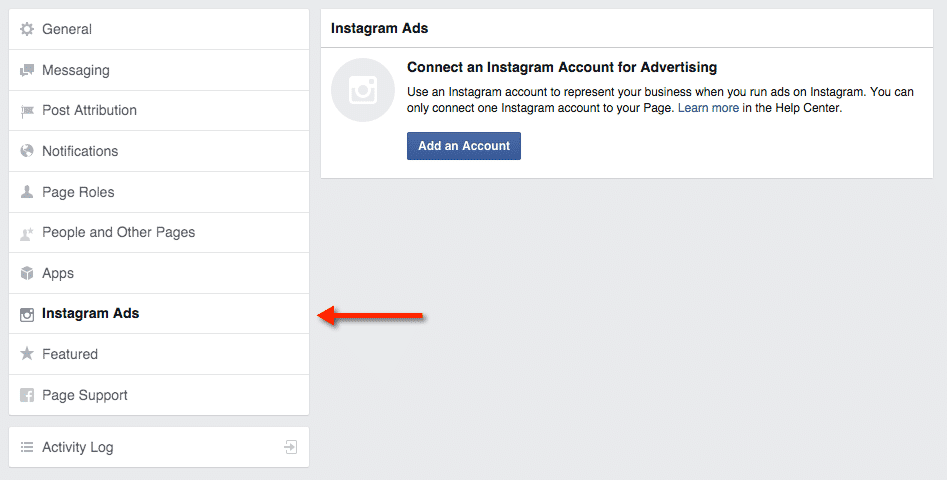 Choose a Relevant Goal
Building your Facebook audience (Page Likes) is not a goal worth trying to achieve on Instagram. If you have an app, are trying to drive purchases or web sign ups, then consider using Instagram as a part of your ad strategy.
The key is to first look at your objectives, then consider the value of the audience on Instagram as well as the way users interact with the network. If those don't coalesce, best to leave Instagram out of this campaign. Your use of Instagram should be tied to a specific action (for example, a download) and if that is not the case, consider saving it for a more relevant campaign objective.
Properly Optimize Your Ad Delivery
One of the new features that Facebook has integrated is a clearer method of choosing your delivery optimization. Do you want your ad to show as much as possible (impressions) or would you prefer that your audience members be carefully selected in order to ensure an action is taken?

Granted, this is not unique to Instagram ads, but it is still an important practice nonetheless, and it becomes increasingly important for Instagram when you launch a campaign designed to acquire new users to your app (downloads/installs).
Pay for What Matters
Another great feature that was included in the most recent round of updates to the Facebook ad interface is the new payment plan option:

Prior to the update, you were billed in a hybrid fashion (between impressions and clicks). With the new update, you can specifically select how you'll be charged, and that makes everything clearer for marketers.
Create Separate Creative
Perhaps the most valuable best practice to keep in mind has to do with the creative you use with your next campaign. The aspect ratio for traditional Facebook ads is 1.9:1. On Instagram, the aspect ratio is 1:1. Your ads will not look the same on Facebook and Instagram.
One nice thing about the new creative structure on Facebook's ad dashboard is the ability to create separate creative (and placement!) for every one of your ads directly within the editor. Essentially, that means that you can create a 1:1 aspect ratio image for Instagram, select only Instagram as a placement and use that as one ad, while another ad is created with Facebook ratios in mind that neglects the Instagram placement. Life is made easy!
Remember the Audience
Again, it is crucial to keep in mind that audiences on Facebook and Instagram are responsive to different things. You might not necessarily want to run the same creative, the same rhetoric or use the same tone on both networks. They might be housed under the same dashboard, but the structure and interaction from your audience is going to be quite different.
With that in mind it will be significantly easier to create ad sets that resonate on both networks (even if they appear differently to you).
https://t2marketinginternational.com/wp-content/uploads/2015/12/tips-for-creating-instagram-ads.png
510
990
Corey Padveen
http://t2marketinginternational.com/wp-content/uploads/2017/06/T2-logo_june17-6.jpg
Corey Padveen
2015-12-08 06:15:09
2017-05-15 21:17:08
6 Important Tips for Creating Instagram Ads