...or Fill Out the Form Below
Download Our Social Data eBook
Learn how to take control of your social data in order to build your business!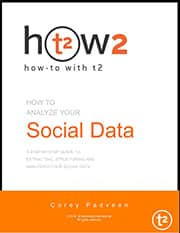 Ask Us a Question
Do you have a question about digital marketing, SEO, big data or social media? Ask us and
visit our YouTube channel
for a chance to have your question answered in one of our "Q&A with t2" segments!
Ask us here
.
Contact Us
If you would like to know more about the services we offer and how we can help your brand grow, please
contact us today
.