This article originally appeared on CoreyPadveen.com.
Every year (since 2011) Scott Brinker of ChiefMarTec.com releases the marketing technology landscape supergraphic, and this year was the most impressive one yet.
In 2011, there were about 150 marketing technologies categorized by Scott Brinker's supergraphic. A lot has changed in the last five years. Now, as you can see below, there are over 3,500. That's almost double what we saw last year (~1,800) and a market that has grown more than twentyfold since Brinker and his team started taking stock of what's available on the market.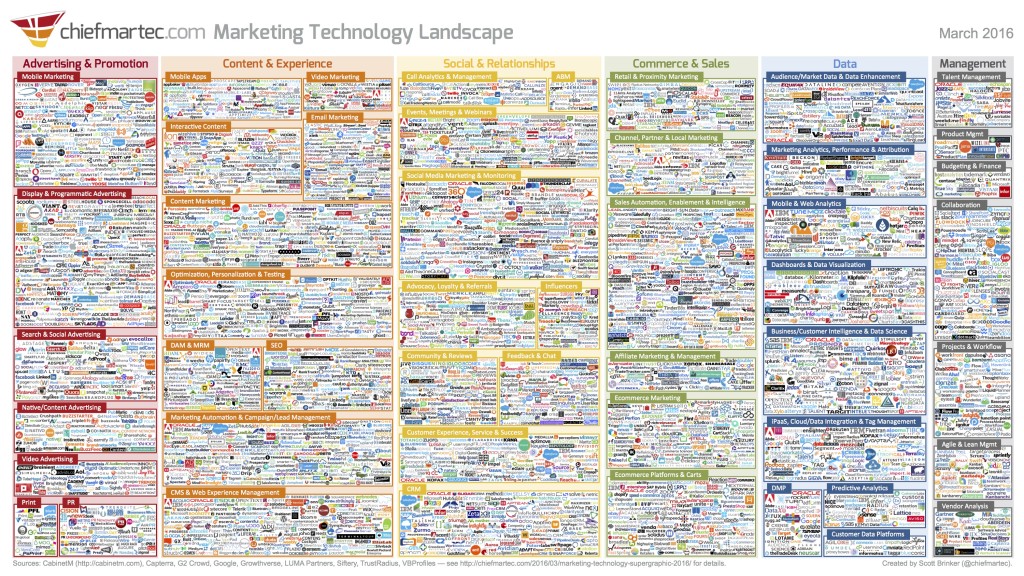 One of the more popular questions I am asked by clients and at conferences (and one of the questions I hear most often when sitting in on a session or webinar) has to do with these marketing technologies. More specifically, "What is the best tool for [INSERT TASK HERE]?" I always answer that question the same way: There is no one perfect tool. Simply put, the perfect tool(s) for you will depend on your objectives and whole host of other variables.
With a market that has grown as significantly as the marketing technologies space, you would think that by now, one of these clouds or suites would do it all. That couldn't be further from the truth. As more of these technologies sprout up and claim to solve the last of your problems, the more difficult it becomes to identify the diamonds in the ever-expanding rough.
Some Positive Realities
It is encouraging to see that the largest categories in terms of available technologies (by volume) are also the ones related to the hottest topics of the day:
Sales Automation, Enablement & Intelligence (220)
Social Media Marketing & Monitoring (186)
Display & Programmatic Advertising (180)
Marketing Automation & Campaign/Lead Management (161)
Content Marketing (160)
We're seeing data make its way to the top of everyone's must-have list, and the tech market is responding accordingly. No longer are these tools reserved for the largest of the large, and the richest of the rich. Data and business intelligence are crucial to businesses of all sizes, and the supply is starting to catch up to the demand.
Another bright spot is the fact that we are starting to see a trend of openness, as opposed to the Oracle model, which has long aimed to close off its acquired technologies to other Oracle products alone. Now, technologies are being built with the pseudo- or custom-cloud in mind, whereby marketers develop their own suite of tools as opposed to relying on the Salesforces and Microsofts of the world. So while the perfect savior tool might not yet be available, marketers can now have an easier time building a version of their perfect tool, once again rooted in their needs, capital and time.
The Future of the Industry
In a market where the number of active players has nearly doubled in a single year, watching tech stocks face valuation slashes (see my articles on LinkedIn and Snapchat) can't be something anyone is too excited about. And while there are plenty of categories from which to choose, anyone can tell you that in the next few years (my estimates put it within 24 months) there won't be enough room for 186 social media marketing companies, for example.
Every one of these spaces is becoming increasingly crowded. Most of them, at this point, are probably already overflowing with waste. It won't be long before we start to see significantly more consolidation (something we have already started to see) and significantly more of these houses closing shop. The good ones (for the most part) will stick around, as they so often do, but as the market starts to balance, the best will be absorbed while the rest are extinguished.
So, while I would strongly advise testing and piloting everything that you think might be the perfect product for your needs, now is a time to approach newcomers cautiously, as you'd hate to invest your resources (time and money) into a product that only has a few months or a year on the market.
https://t2marketinginternational.com/wp-content/uploads/2016/03/marketing_technology_landscape_2016_3000px-1024x576.jpg
576
1024
Corey Padveen
http://t2marketinginternational.com/wp-content/uploads/2017/06/T2-logo_june17-6.jpg
Corey Padveen
2016-03-28 06:15:57
2017-05-15 21:17:21
There Are More Marketing Technologies Than Ever!