There is a lot to look forward to in Facebook's future, as evidenced by the Facebook F8 keynote.
Last week, Mark Zuckerberg delivered the keynote address at the Facebook F8 summit and shed some light on what the future has in store for the social networking giant. (It should be noted that at this point Facebook is a giant in many – if not most – respects, and not only when it comes to social networking.)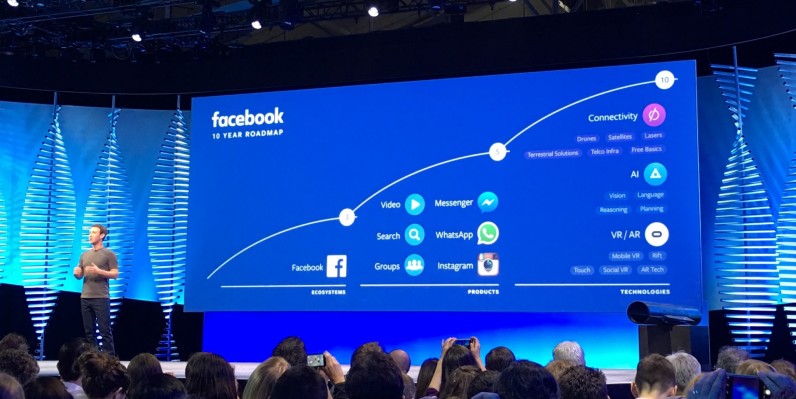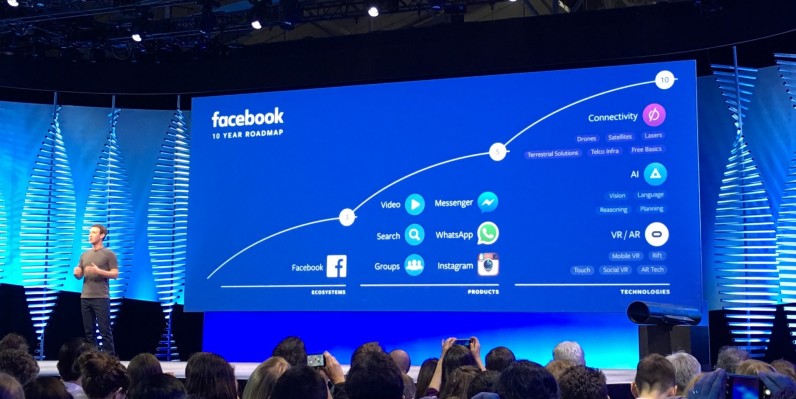 The Age of Spiritual Machines
So maybe we haven't yet reached that fateful period that Ray Kurzweil has prophesied, but Facebook has certainly taken a step in that direction by embracing bots (and a form of artificial intelligence) when it comes to brand engagement on Messenger.
The idea behind automated interaction like this is to improve the distribution and engagement with brand content (and other content from around the web). At first – as with all things that are unfamiliar to us – it will likely feel like an intrusion. As these bots adapt to your tastes and mold to your Facebook engagement habits (not to mention the improvements that will surely come) it will certainly reach a point where it passes a Turing Test.
Following the announcement, two big content distributors – Business Insider and The Wall Street Journal – announced the launch of their bots, and those brands using this service has only increased since then. We can surely expect to see brands (of all sizes) start to embrace this service in the near future, if for no other reason than to test its capabilities.
Sharing Text Just Got Easier
You're reading a book, you see a quote that inspires you, it's time to share. Now, that process (which was pretty easy to begin with) just got easier.
Now when you see text in an integrated app (Amazon Kindle will feature this soon) that you would like to share, you can simply highlight it and choose to share it to Facebook. Sure, the aesthetics of a beautiful sunset setting the backdrop for some inspirational text might still be preferable, but who knows where this option might go from a creative angle. That might be phase two.
For now, sharing text is a click away.
Streaming Coming Up in a Big Way
Facebook is making an even bigger play in live streaming content. In their ten year roadmap, their connectivity focus includes plenty of drone, 3D, 360 and live streaming elements.
There has been a lot of excitement and hype around the live streaming space. That's exacerbated by the fact that Facebook has been putting plenty of weight on content that is live streamed in its News Feed algorithm. But if we were to imagine live streaming on the Gartner Hype Cycle (shown below) where would it fall?
Realistically, we would probably see live streaming between the Peak of Inflated Expectations and the Trough of Disillusionment. Yes, there are undoubtedly applications and yes it is an exciting new field as far as content delivery goes, but it still has yet to find a balance. That said, it is easy to understand why Facebook is putting a lot of weight behind it.
Better Bookmarking
Lastly (at least lastly for this article, but there is plenty more to catch up on) Facebook is venturing into the bookmarking space in a more robust way. Every day, more and more people are using Facebook to digest news content. A lot of what was discussed in Facebook's F8 keynote was news-related.
Bookmarking is another way that Facebook is trying to extend its value to consumers. Bookmarking and better segmenting the content you see is an area where Facebook offers little right now. That's going to change as they extend how bookmarking on the platform works, and what benefits there are to using it.
Conclusion
A lot was announced by Facebook, which is nothing new. Every day, there are plenty of great innovations coming out of the social networking behemoth. It'll be exciting to watch how they approach (and adhere to) their ten year roadmap.
https://t2marketinginternational.com/wp-content/uploads/2016/04/Facebook-F8-Keynote-Roadmap.jpg
399
796
Corey Padveen
http://t2marketinginternational.com/wp-content/uploads/2017/06/T2-logo_june17-6.jpg
Corey Padveen
2016-04-19 06:15:26
2017-05-15 21:17:25
The Most Important News from Facebook's F8 Keynote