comScore recently released new marketing data reports identifying the strength of Facebook and the increasing growth of Snapchat.
It's official: we spend 20% of our digital time on a social network. Take into account email and instant messaging, and we're nearing a third of our time devoted to engaging with others in the digital world. As the report points out, "The strength of this [social networking], along with Email and IM, highlights that one of digital's primary functions is for communication – now more so than ever with the rise of mobile."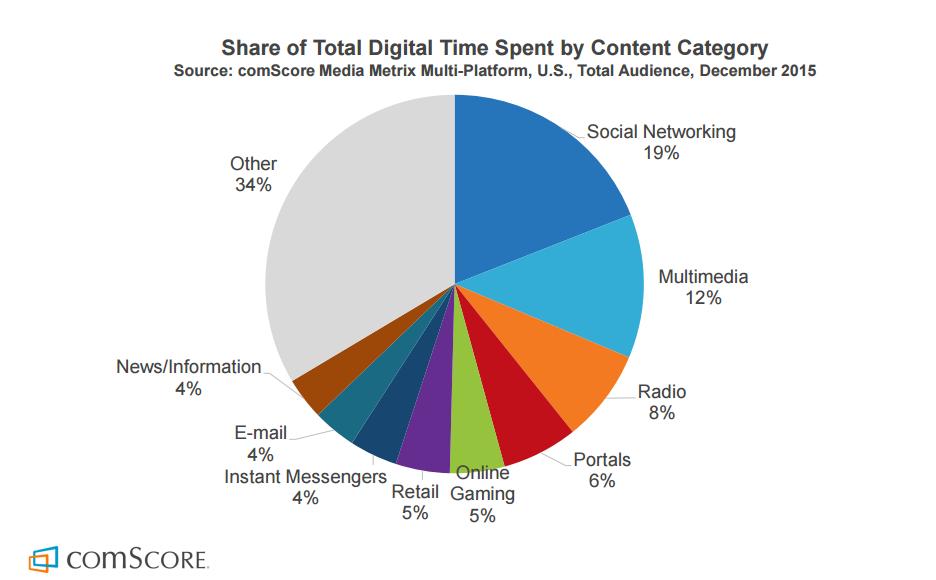 With so much time spent engaging on social media, marketers are left to wonder where exactly audiences are spending the majority of their time, and how best to reach them. Some of the more interesting data in this report has to do with the (still) unstoppable juggernaut that is Facebook, and how earlier rumors of its demise were quite exaggerated.
Facebook is Still in Charge
For quite some time, people have been talking about the 'death of Facebook' and claiming that younger audience (read 'millennials') are 'fleeing' from the network. That couldn't be further from the truth. Yes, there has been plenty of expansion onto other networks. Snapchat has risen through the ranks quickly to become a fan favorite. (Though its value as a marketing tool remains to be seen.) But users spreading their time across multiple networks does not mean that the incumbent powerhouse is falling from grace.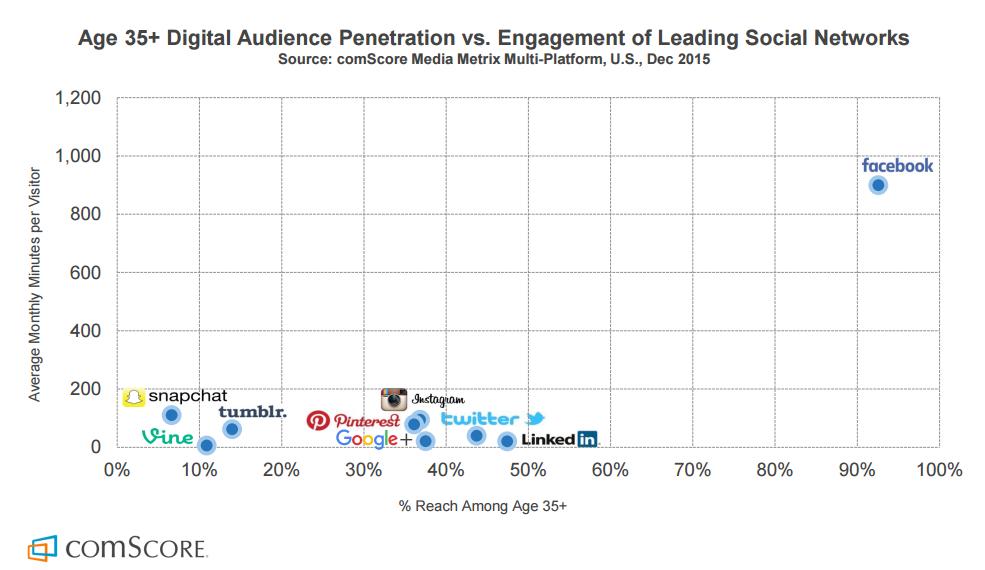 As you can see in the two charts above, the comScore marketing data shows that in terms of reach, not a single player comes even close to Facebook. What's more, the more narrow age breakdowns see Facebook holding a strong distribution. With a global audience hovering around 1.5 billion users, that means that you can find an audience for virtually any business on Facebook. While the same can't be said about (virtually) anyone else, Snapchat does have something going for it in terms of audience makeup.
The Value of Snapchat
Again, we come back to the conversation about millennials. Prior to getting into the conversation about Snapchat's hold on this coveted market, it should be noted that there are far too many misconceptions about the term 'millennials'. Marketers think about the age demographic as moving in unison like a herd of buffalo. In order to effectively reach and activate this demographic, marketers need to think about them from the perspective of a personality, regardless of age. There are certain traits that define the term millennial that extend far beyond the age range. That said, what does this report uncover about Snapchat?
Of the 100 million+ daily active users on Snapchat, 76% of them are between 18-34 years old. In terms of the younger side of that group – namely audience members between 18 and 24 – 46.8% of Snapchat users fall into this age group.
There is clearly opportunity in terms of tapping the audience available on Snapchat, but whether or not that is an opportunity that will be afforded to the masses (and whether or not a tangible return can be calculated from this opportunity) remains to be seen.
Conclusion
The long and short of the story is that Facebook is continuing to see growth and dominance in the social networking (and mobile) markets, and it is still a very, very viable play for marketers. Snapchat still has quite a ways to go in terms of providing economic (calculable) value to marketers, but no one can doubt that there is something there.
There is lots of great information in this report, and it is certainly worth a read. You can download a copy of your own here.
http://t2marketinginternational.com/wp-content/uploads/2016/04/Time-spent-on-different-media-marketing-data.jpg
580
936
Corey Padveen
http://t2marketinginternational.com/wp-content/uploads/2017/06/T2-logo_june17-6.jpg
Corey Padveen
2016-04-05 06:15:06
2017-05-15 21:17:26
Facebook is Strong and Getting Stronger [New Marketing Data]